When we founded Zazmic we were working simultaneously in China, Spain, Ukraine and Silicon Valley. Communication efficiency and maximizing the throughput for our distributed team members were among our first challenges.
We settled on two top-10 platforms that allowed us to best deliver so many projects for our great clients.
Check out the process which led to our preferred two platforms!
#10 ProofHub:
ProofHub is a stylish yet simplified project management tool with a lot of built-in features and control.
Its principal features include: enabling users to define and assign tasks, group and  private chatting, keeping logs of all your data and making it easily searchable.
ProofHub can also define a custom hierarchy of people and tasks. Its calendar is very powerful; users can get date-and-time related information about a specific project or all projects at a glance. ProofHub allows users to manage their time effortlessly with milestones—both the time required to complete one and actual time spent.
ProofHub uses the Gannt Chart to measure your progress in an easy and efficient visual format. By setting task dependencies it becomes clear how a delay in one task will affect the others.
ProofHub is compatible with OneDrive, Google Drive, DropBox and Box for online sharing and data storage.
ProofHub's most powerful feature (my favorite) is its availability in thirteen languages, rendering language barriers between team members practically non-existent. One click seamlessly changes the entire interface, including notifications from one language to another. ProofHub is available on web and android devices.
The Bottom Line: Good for project planning and tasks. If you like managing software with the Gantt chart, this is great. For Zazmic, it was simply not agile enough.
#9 Bitrix24:
Bitrix24 is a feature-rich collaboration tool and unified communication software which comprises a suite of over thirty-five tools for collaboration and team management. It is a fully functional CRM covering tasks from lead generation to client invoicing.
Bitrix24 defines and assigns tasks to one or more team members then tracks these together, including the time spent for completion. Adding tasks to a calendar makes them easily accessible and provides overall time-to-time results. Reporting is simple and detailed.
Bitrix24 has real-time collaboration tools. You can make video/voice calls from any device or simply use Bitrix24 to call directly as it logs and records the calls. Moreover, Bitrix24 boasts a built-in social media network—like, comment and/or assign a badge to any post. Online storage from 5 GB (free) to unlimited (for paid plans). Bitrix24 works with google docs and other file-sharing tools.
Bitrix24 is also available as a self-hosted option. Download and install it on your own server with complete access and control. It works on all major platforms—Windows, Mac, Linux, IOS and Android. For $99-$199 add an unlimited number of users.
The Bottom Line: Good for a lot of things that we did not really need, and expensive.
#8 Glip:
Glip is another useful tool for distributed teams. It includes task management, file sharing, real-time collaboration, voice and video calling, shared calendar, etc. Glip is easy-to-use, eliminating the need to spend hours mastering its functionality.
Glip replaces a conventional inbox, but can also seamlessly integrate with an existing inbox without sacrificing the advantages of either.
Glip is of course available on Android and IOS for managing teams on the go. Glip has built-in tools, but also integrates with other services such as Dropbox, Google Drive, Hangouts and Asana.
The Bottom Line:  I loved that tool personally; I really thought it would be the one. But my engineers were not satisfied. So we went on to the next platform.
# 7 Microsoft Office365 for Business:
Some people may argue that Office Suite could hardly be the tool for remote teams, but indeed it's quite appropriate. With Office 365, Microsoft integrates all the services necessary for online work and collaboration in one place.
Office 365 is not only equipped with all the traditional office tools such as Excel, Power Point, Word, Outlook, One Note, Publisher and Access but also includes up to 1TB (Tera Byte) storage per online user. Store files online and share them with anybody inside or outside your company. With "Skype for business" for HD multi-party video calling and conferencing, you can use HD Video Conferencing with up to two hundred and fifty parties. As an additional collaboration aid, users can share their screens.
In the interests of brand recognition, Microsoft Exchange Server provides your company email address (e.g. abc@yourcompany.com). Office 365 also includes Yammer, a social networking service for companies to facilitate working together.
Office 365 is available on Windows, Mac, IOS and Android, so you can work anywhere, anytime from any device.
The Bottom Line:  If emailing, a calendar, tasks and well-managed documentation sharing is all you need… perfect! Unfortunately, it does not reflect or measure the developmental stages of projects.
#6 BaseCamp:
BaseCamp is another very popular software amongst remote teams. It is used mainly for project management and task management.  BaseCamp has a very easy-to-use interface. Its simplicity is superior to the others.
BaseCamp also includes access controls such as admin, team member, client or guest for better collaboration and monitoring. Embed media files, host discussions, plan projects and formulate to-do lists.
BaseCamp's major drawback is its lack of a real-time collaboration tool. BaseCamp won't make voice/video calls directly. It is best suited for small to medium organizations.
The Bottom Line:  It used to be the darling of the Product Team but proved to be too transactional and task-oriented for the Engineering Teams.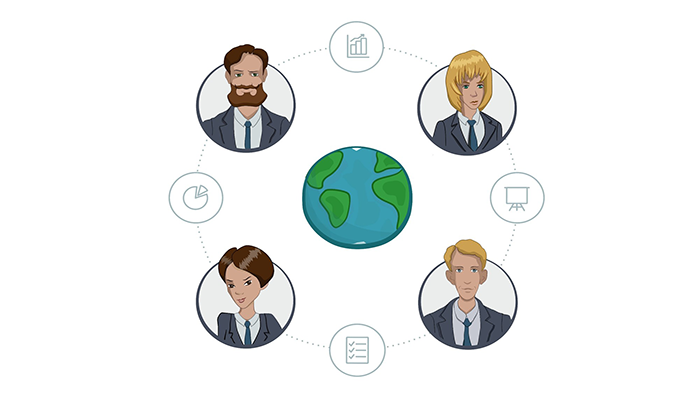 #5 HipChat:
Hip Chat is another very cool, feature-rich team-member-collaboration tool. It will define and assign tasks; perform instant or group chatting and audio/video and conference calling; provide screen sharing, private chat rooms and easy file sharing. It also integrates various other popular services such as JIRA, Bitbucket, Heroku, Zendesk and over eighty others.
The vast array of emoticons, animated GIFs, Instagram feeds and Twitter notification make it really fun to use. It also includes 256 bit SSL encryption to secure communication and chatting even with guest members. It is available in Mac, Windows, Linux, IOS and Android.
The Bottom Line:  Not good enough to beat Skype, not good enough to be Slack. Oh well… that was a quick trial. But I think it had great potential.
#4 Jira:
JIRA is  used by thousands of agile teams and widely considered to be the best tool for collaborating in the software development process.  You can plan, check progress, manage and even design the workflow of the project.
Scrum and Kanbon board options empower users to get more results in less time. Users can quickly see "what to do," "in progress" and "done" in a few seconds by looking at these boards.
JIRA includes more than eight hundred add-ons to further facilitate the development process and collaboration. Discuss and plan projects with other team members, get ideas, share your thoughts. Live bug tracking and out-of-the-box agile reporting make it much more powerful than any other software development tool for remote teams.
The Bottom Line:  Great tool for large companies and we might use it again when we reach the 200-engineers mark. But JIRA was ultimately surpassed by Trello (see below) the platform a large majority of our engineers prefer.
#3 Asana:
Asana is a web-based service for team collaboration that works on the model of "Software-as-a-Service."  It focuses on allowing users to manage projects and tasks online without the use of email.
In Asana each team has its own workspace. Projects are part of the workspace and each project has its own tasks. Members of the team can follow any task or project and receive updates on any changes.
Asana is highly customizable. You can assign tasks to any team member and set a due date for the task. One dashboard displays the progress at a glance.
Dropbox, Slack and Google drive are among the many services integrated with Asana.
The Bottom Line:  We used it for quite a long time on many projects. We use it now by request for clients who prefer traditional Project Management Practices.
#2 Trello:
Trello is an effective project-management tool that specializes in flexibility and appealing graphics to increase visibility. It uses lists and cards to show projects and tasks. Team members can share both their ideas and comments on others' ideas. Drag and drop the cards to show the work in progress and even rename cards according to the situation. You can also upload files to/from OneDrive, Google Drive, Drop Box and many others.
Trello is very popular and has Web app, Android App, Apple App and Windows app.
The Bottom Line:  Trello is an easy UI and Workflow tool that can be used for QA, Product, Dev OPS and Engineering management. Oh, and yes, it's free!
#1 Slack:
Slack is famous, with the versatility to appeal to a variety of users across the globe. Slack was originally introduced as a messaging app but has now been converted into a much more powerful application. Team members can chat, make audio/video calls and share their screens.
In Slack, conversations are organized in channels. You can set a channel by topic, team or project. Create a private channel to hold a private discussion with a specific team member(s).
File sharing is a snap. Simply drag and drop the files to upload  them automatically. Add comments, stars and other features to the uploaded file. Sync it automatically with Google drive, Drop Box or Box by pasting the link and your files become searchable as well.
Slack possesses powerful service integration. Integrate Google drive, Drop box, Screen Hero, GitHub etc. Search any data from PDF, Google documents or spreadsheet using a single search option.
Slack is robust and easy-to-use. I call it "Virtual Headquarters" for its numerous amazingly useful features.
The Bottom Line:  What's not good about this platform? It takes care of everything. I cannot believe there is still a free version!
Conclusion: We spend most of our days in Slack and Trello which enable first-rate execution on all of our products.
Yann Kronberg – CTO Zazmic